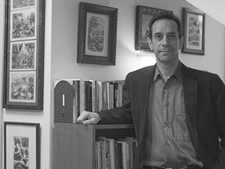 Dr. Geordie Duckler heads The Animal Law Practice, a unique private law practice in Portland, Oregon. The Practice's clients are companion, domestic, commercial, farm, and exotic animal owners, and its main focus is on the resolution, litigation, and trial of animal-related disputes and harms in cases at both the state and federal levels. Geordie plaintiffs as well as defends several hundreds of cases each year on issues ranging from resolving relatively minor animal control violations to winning quite significant product defect, human injury, and veterinary malpractice suits and injury cases, and his practice is the only one of its kind on the West Coast and one of a small handful in the entire nation.
Education & Background
Geordie received his M.S. from University of Oregon in 1984, his J.D. from Lewis & Clark Law School in 1987 and his Ph.D. in Biology from UCLA in 1997. As an active research scientist at UCLA, he studied, lectured, and published extensively on animal anatomy and the role of disease in animal populations. He taught human and animal anatomy/physiology at academic institutions in both California and Oregon, and over the last 30 years has practiced law in both states as well.
Along with representing an extremely diverse clientele of pet owners, animal shelters, recreational horse riders, commercial farmers, ranchers, neighborhood associations, specialty dog and cat breeders, stable owners, animal welfare activists, sportspeople, consumers, veterinarian clients, small businesses, conservationists, fur and wool farmers, and private animal adoption agencies, Geordie also has taught animal law courses as an adjunct professor at Lewis & Clark Law School in Portland, sits regularly as a hearings officer for Multnomah County Animal Services, and presents yearly professional CLEs in both Oregon and California on animal law for the state bar. Over the last several years, he has also judged in a national Animal Law Moot Court competition at Harvard University and appears as a regular speaker at animal law conferences around the country.
Previous Cases
Among other notable achievements, Geordie's 1997 law review article about laws affecting zoo animals received national recognition and became the focus of a landmark conference by the Bar Association of New York. More recent law review articles have addressed the economic value of domestic animals, and evidentiary problems in the courtroom. In 2001, Geordie made headlines in Brock v. Rowe, a civil action in Washington County that initiated significant national attention for championing a new tort, "loss of companionship," as well as for the recovery of emotional distress damages for companion pet owners in Oregon. In 2006, Geordie again made headlines in Greenup v. Weaver, a civil action in Clackamas County that garnered significant national and international attention also for championing loss of companionship, as well as for obtaining one of the highest jury verdicts in the country in a companion animal death case. In 2008, Geordie was once again covered extensively in the national and international press for his highly effective representation of Jim Filipetti, owner of the infamous black-tail deer "Snowball" in Filipetti v. Oregon Department of Fish and Wildlife, a civil action in Clackamas County disputing the private possession of rescued wildlife.
Accolades and Recognition
Geordie is frequently profiled and quoted in local, regional, and national newspapers and magazines, and has contributed to nearly every television and radio program concerning animal law issues and cases. An outspoken advocate for owner's rights, Geordie has had his cases reported on and has been interviewed in The Oregonian, The Tribune, Willamette Week, The National Law Journal, Court TV Radio, Geraldo, Newsweek, The New Yorker, The New York Times, Playboy, The Chronicle of Higher Education, and on National Public Radio, Canadian Broadcasting, and the BBC. He writes a regular column for The Bark magazine as its resident legal expert, and has been featured in two recent National Geographic nature documentaries in 2007 and 2009.
Download / Print Dr. Duckler's Curriculum Vitae
Selected Publications
Duckler, G. 1997. Towards a more appropriate jurisprudence regarding the legal status of zoos and zoo animals. Animal Law Journal 3: 61-72.
Duckler, G. 2002. The Economic Value of Companion Animals: A Legal and Anthropological Argument For Special Valuation. Animal Law Journal 8:199-221.
Duckler, G. 2004. On Redefining The Boundaries Of Animal Ownership: Burdens And Benefits To Evidencing Animals' Personalities. Animal Law Journal 10:63-86.